Bespoked 2016: basically a long weekend of pure fantasy bike shopping! Absolute heaven. The 6th UK Handmade Bicycle Show featured, not only scores of bike builders, but also some fascinating speakers with inspiring tales of circumnavigating the globe and tips on dealing with taxi drivers too! Ride Velo hot-footed it to Bristol's Brunel Old Station last weekend to indulge in a gluttonous feast of the best customised creations in the country.
The essence of Bespoked is really that when you see the bike of your dreams, it fills you with visions of unrealised possibilities. Visitors experience a completely subjective and emotional reaction to an inanimate object made from metal, (occasionally carbon) and rubber and its power can be a bit overwhelming! With so many wonderful designs and custom builds on display it can be tricky to to choose a favourite - but there were a couple of bikes that got under our skin.
It was love at first sight for this prototype bike from Meteor Works – it is just so beautifully crafted, with signature details in surprising places such as the engraved logo on the gearwheel and script on the handlebars. To be honest, we couldn't really imagine who'd buy it for £5,000 and where they'd ride it to; it's just too precious and eye-catching. It would be nicked in 5 seconds flat if we rode it down to Brixton market to pick up the weekly okra and yams. You'd need an ancestral pile in Yorkshire which had a very, very long drive which you'd go to the end of and back and that's about it. But we still love it.
This road bike by Sven, which looked positively modest in the showy company that surrounded it, filled us with longing for the 1950s idyll of Enid Blyton's Famous Five. It even has "Made in Dorest" painted on the chainstay! The grass green and sky blue paintwork was evocative of childhood summers filled with picnic baskets, adventures on the south coast and four-legged friends. OK, we never experienced this, but we've read enough Malory Towers to yearn for it with all our souls. Now run along, Timmy, and don't forget the ginger beer! Hugh Fearnley Whittingstall commissioned Sven to make him a bike specifically for foraging and camp fires. Exactly.
The glorious thing about Bespoked, compared to other bike shows, is that almost all the bicycles on display were custom-made and commissioned by real people with their own individual needs and desires. So although the show is relatively small, you can easily spend the whole three days examining all the permutations and quirky combinations of frames and parts.
There were definitely some common themes across the show, however, reflecting current trends. Firstly, one saddle cropped up on everything from a foldable link-drive bike to trandem (is that a word?? A tandem for three anyway) - the Brooks Cambium. This elegant, textured saddle with racing lines is made for men or women and comes in a carbon option too. The off-white fabric effect saddle was omnipresent - and we wanted one - but the Brooks stand had sold out!
We also noticed many hammered metal mudguards – firstly on the stunning Meteor bike, but on lots and lots of glamorous touring bikes, our favourite pictured here from Swallow. A surprising theme was for putting gravel bike tyres, often tubeless, on classically styled road bikes. Caren Hartley of Hartley Cycles explained that they are self-sealing and low maintenance. They've crossed over from mountain biking and are becoming more popular with road bike users offering greater versatility and a comfortable ride. Emily Chappell has a similar set up for couriering.
At the other end of the spectrum, some builders were making very personalised bikes for very specific needs. We met Elizabeth Colebrook from Beaumont Bicycle who trained as an Occupational Therapist between working for Isla Bikes and building up Beaumont. She now custom-makes bikes for people with specific physical needs and can create comfortable bikes for people with knee, hip, and back problems and was even displaying a bike she'd made for a 78 year old client with a heart condition. But it's not only ailments that she caters for. Look at this pretty, lightweight, step-through bicycle that she built for a cycling lady poet:
It's not only the personalities of the customers that are on show at Bespoked, but the individual stories of the manufacturers are also fascinating. Ride Velo readers will already know all about Dear Susan bike maker Petor Georgallou (and no, he hasn't managed to fix his boat and is still living in his hearse) and Lloyd Townsend of The Light Blue who's just built a replica version of his great grandfather's iconic fixie. We met Ashley Malcolm of Malcolm Custom Bicycles, who is an ex pro cyclist from the Australian National Team but now living in Brockley, South London. And Matthew Sowter from Saffron Frameworks who also lives in Brockley (!) but hails from South Africa and also used to race until illness forced him to retire. Bike building was a way of getting back on his feet.
In fact we had left South London only to meet half of London in Bristol! Brixton Cycles were out in force alongside Look Mum No Hands! who were ably providing the refreshments for the event. Caren Hartley and Jake Rusby work in East Dulwich. Dear Susan, show photographer and Attack the Pack co-creator Ben Broomfield are based in trendy East London. This could explain the proliferation of beards on display, sported by almost everyone except the women and children!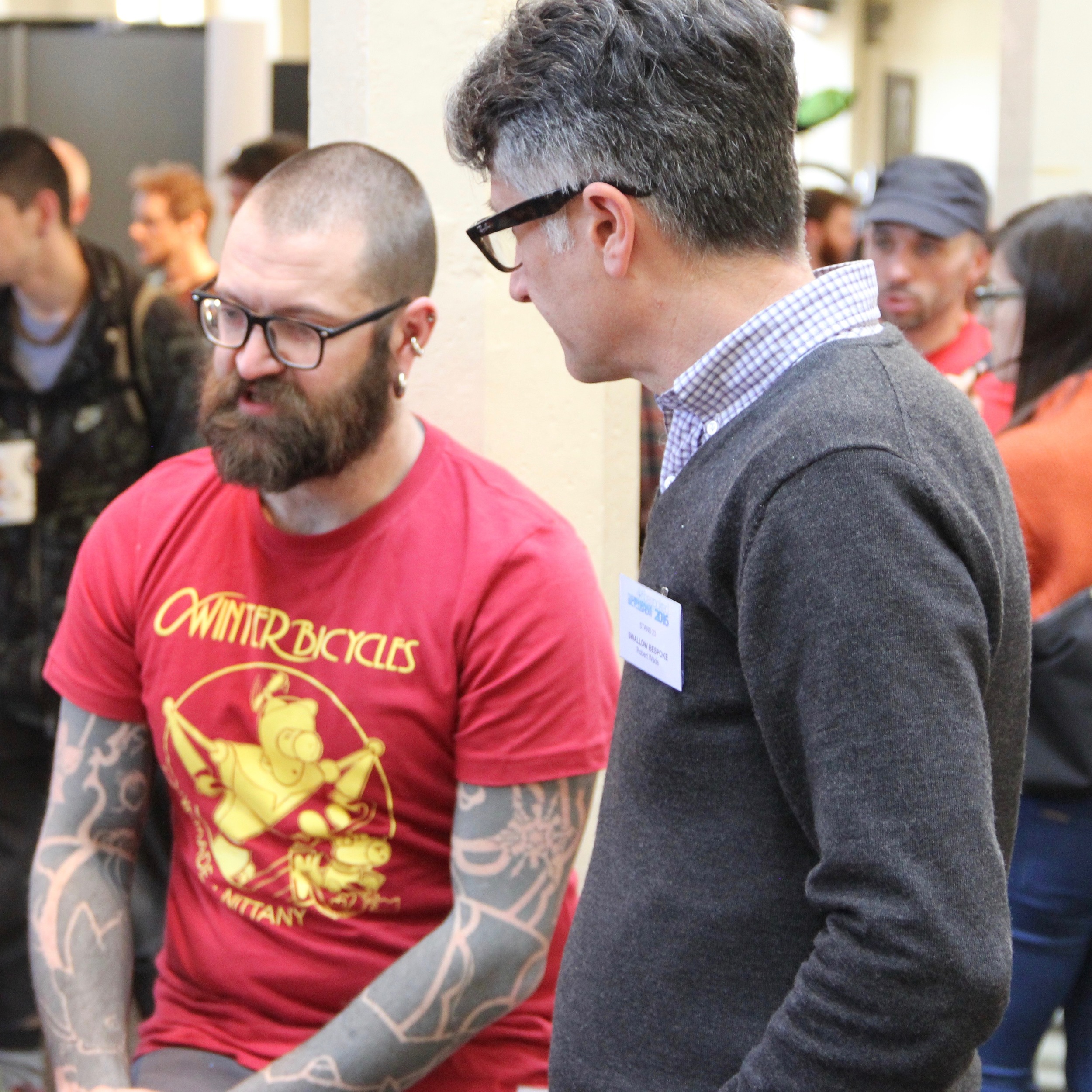 Although many of the bikes on show wore rosettes of distinction, our favourite designer has to be Dear Susan creator Petor Georgallou. He is an artist who is not influenced by commercial gain but who likes to create beautiful, imaginative and wacky objects. We loved his bottle holders, which were manufactured on a 3D printer. Don't try and put bidons in them, however, they're purely for holding bottles of Jack Daniels! We were also captivated by the catapults he's created out of front forks. No he didn't cut down fancy forks to make into the catapults – he hand built them from scratch and you can buy one to take into the woods with you and your mountain bike, for £65.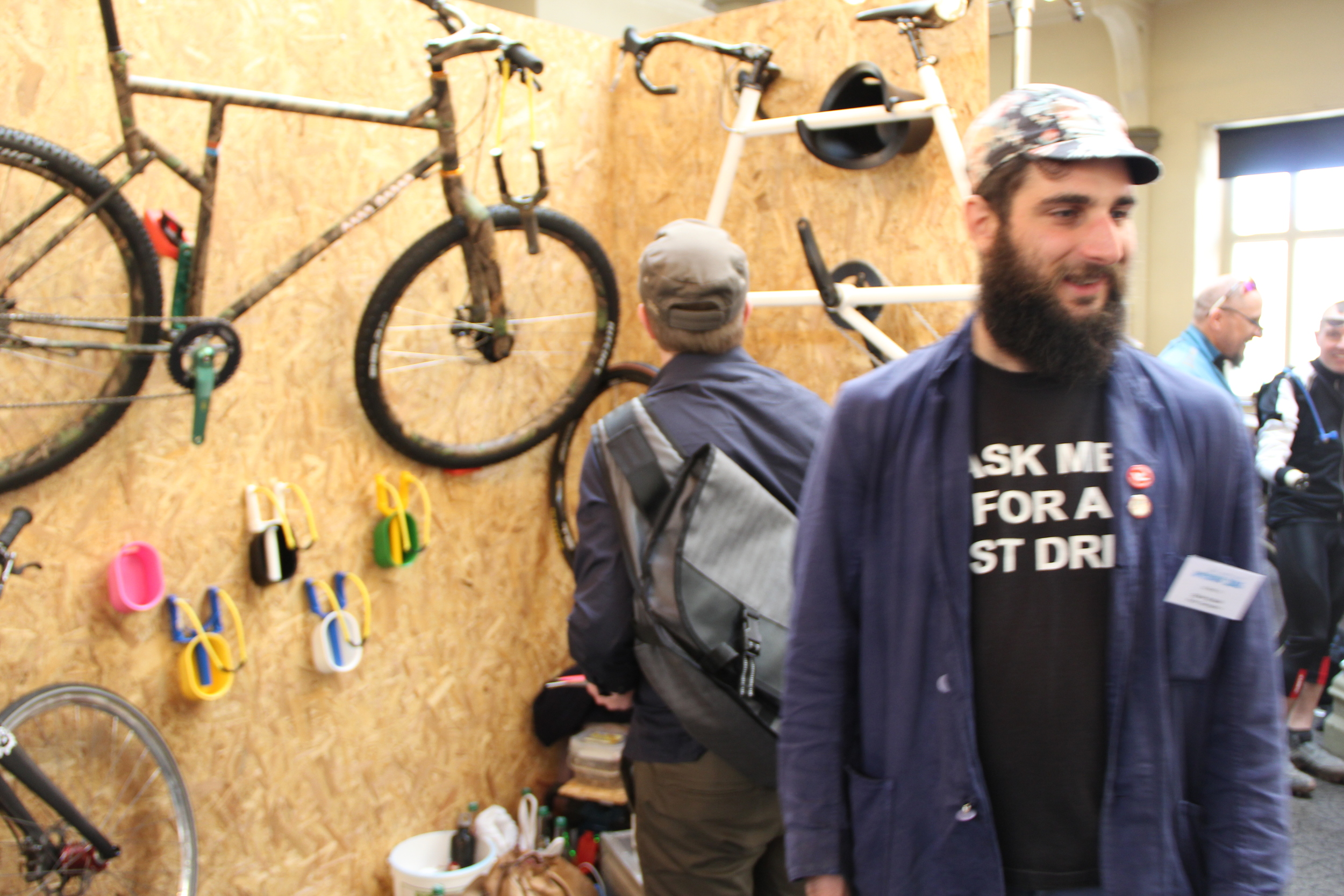 The touring and gravel bike theme at Bespoked extended to the speakers who came to entertain the crowds over the three-day weekend: Emily Chappell, Julian Sayarer, Jet McDonald and Riding the Transcontinental Race, amongst many more. Now Emily and Julian were there to talk about their careers as cycle couriers, but it was their tales of touring the globe that really set the audience on fire. Jet McDonald rode from Bristol to India and back, exploring western and eastern philosophies en route. His psychological discoveries made for a kind of cycling version of the classic "Zen and the Art of Motorcycle Maintenance".
The thing about Bespoked is that it's refreshingly different to mainstream events such as The Cycle Show at the NEC. Sure, there's a place for those too – there are plenty of riders out there dying to see the latest carbon fibre offering from one of the major players.
But it was Lewin Chalkley from Look Mum No Hands! who really hit the nail on the head. He explained his love for the show; " it really reinvigorates your love of cycling again and gets the hairs standing on the back of your neck. It reminds you of everything that excited you about cycling in the first place." At Bespoked it's all about beauty and function. No one mentioned marginal gains and there was nothing tacky on display. This event is just about the joy of cycling and being out on a bike. It's a celebration of being a cyclist and a return to the roots of what originally ignited your love affair with two wheels. Roll on 2017!